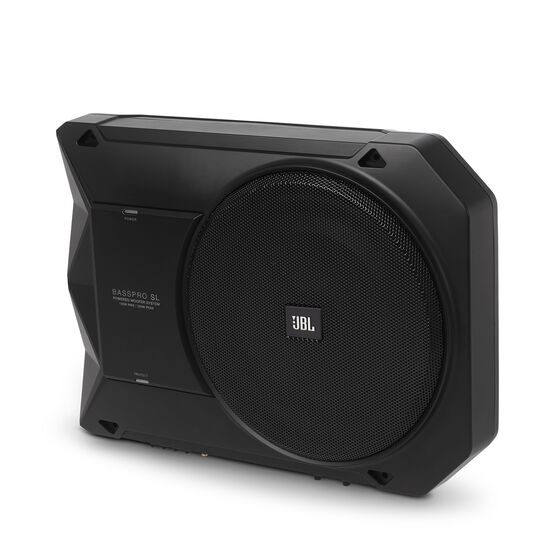 BassPro SL
Details
https://th.jbl.com/car-subwoofers/BASSPRO+SL.html?dwvar_BASSPRO%20SL_color=Black-GLOBAL-Current
---
Powered, 8" (200mm) car audio under seat woofer system
Proprietary, shallow-profile woofer
The 8" (200mm) woofer in the BassPro SL is designed specifically to provide low distortion and great bass performance in an ABS enclosure with a remarkably compact footprint.
Efficient Class D amplifier
The amp that powers the BassPro SL produces minimal heat, and it doesn't require a lot of current from the car's electrical system.
Intelligent electronic design
The BassPro SL employs high-pass filters and limiters that deliver exceptional at-the-limits performance.
Crossover control
A manual crossover control (50Hz – 120Hz) lets you adjust how much upper bass and mid-bass the BassPro SL produces. Fine-tune the crossover to achieve a smooth transition from the BassPro SL to the rest of the system's speakers.
Flexible EQ adjustments
Level control adjusts the BassPro SL's volume to the other speakers in your system, while Bass Boost control lets you minimize peaks or dips in bass frequencies in your car's acoustic environment.
Line- and high-level inputs
For added installation flexibility, the BassPro SL features both line- and high-level inputs. If you use the high-level inputs to connect the BassPro SL to the head unit, an input load switch lets you switch from "Low" to "High" to achieve optimum results.
Wired, remote level control capability
The BassPro SL is compatible with the JBL GTO-RBC (sold separately), which enables you to control the level remotely.
Big bass boost from a compact woofer enclosure
The BassPro SL powered woofer fits under the front seat of many vehicles, and supplements a car audio system's full-range speakers with powerful bass. Its shallow-profile, 8" woofer delivers low-frequency enhancement from a slim-profile enclosure. A crossover control and flexible EQ adjustments let you tune the BassPro SL to your system, your car's acoustic environment and your listening preferences. The energy-efficient amplifier keeps its cool while powering the woofer. High-pass filters and limiters ensure remarkable performance, and input options increase installation versatility. The BassPro SL delivers a lot of bass, without taking up a lot of space.