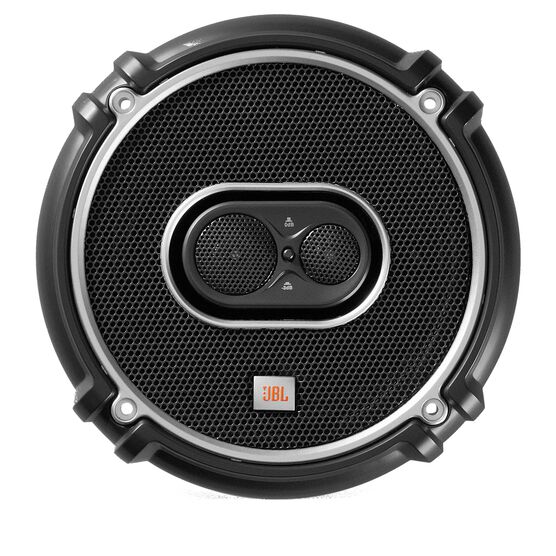 GTO638
Details
https://th.jbl.com/car-speakers/GTO638_.html?dwvar_GTO638___color=Black-GLOBAL-Current
---
Concert-quality 6 1/2 inch 3-way Car Speakers
Patented Plus One® woofer cone
Our proprietary Plus One® woofer cone (patent number 7,548,631) is exceptionally stiff and lightweight and has up to 25 percent more active surface area than you'll ever find on competing models of the same size. It delivers an audible increase in bass output and efficiency.
Home theater-quality tweeter
The GTO683 has a high-bandwidth, edge-driven textile-dome tweeter with a large voice coil, just as high-end home audio loudspeakers do. The tweeter's My-Ti™ (a proprietary Mylar®-titanium blend) alloy delivers great power handling, extended high frequencies and seamless integration with the woofer.
True sound from built-in crossover network
By using a built-in crossover network with advanced high-pass and low-pass filters, the GTO638 creates a smooth transition between the woofer and tweeter. The result? Midrange vocals that sound so natural and lifelike, you'd think the vocalist was sitting in the passenger seat.
Easy, patented Intermount III mounting system
The Intermount III (patent number 6,505,705) system makes installation easy. Using its JBL® installation rings (included), you can fit the GTO638 into factory-built installation locations varying from 6 to 6-3/4 inches. It even simplifies the replacing of aftermarket speakers.
Can be safely driven by any head unit
The GTO638 is compatible with aftermarket head units and factory-installed systems. Designed to replace factory-installed OEM (original-equipment manufacturer) speakers, the GTO638 is easily installed into nearly any factory-built 6-1/2-inch location – and doing it won't require special tools or modifications.
True 4 Ohm Technology
For the most powerful performance, the GTO638 makes the best use of any amplifier by providing an optimum 2-ohm load. It uses a lower-impedance voice coil than a typical speaker to extract the most power and performance possible from all amplifiers engineered to drive loads of 4 ohms or less.
Outstanding audio output
This muscular speaker offers 180 watts of peak power. Hit the gas and have fun.
Adjustable Tweeter Level
The GTO 638 allows the tweeter level to be adjusted 0 to +3 decibels to compensate for low and off-axis mounting positions or road noise.
Pop the JBL® GTO638 into any factory location with no special tools or modifications. You'll suddenly have the big, booming bass and the rich, crisp, detailed sound that make JBL® products famous – in your car. (Yes, your car.) You'll hear the power of JBL-patented Plus One® woofer cones and a My-Ti™ tweeter. A very large voice coil, like the ones the best home audio speakers have, delivers crystal-clear, extended high frequencies for audiophile-quality performance. And a UniPivot™ (patent number 6,002, 780) tweeter pod gives you control of imaging even if the speaker has to be mounted low. In the GTO638, you'll find attention to detail that's rarely given to car audio. And it's a game-changer.