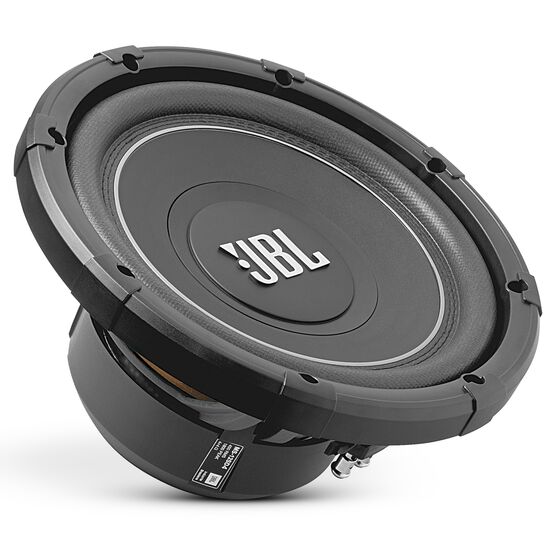 MS-12SD4
Details
https://th.jbl.com/MS-12SD4_.html?dwvar_MS-12SD4___color=Black-USA-Support
---
A 12" (300mm), high power-handling, dual voice-coil premium subwoofer
25 – 1800 watts suggested amplifier power range
JBL engineers designed the MS-12SD4 premium subwoofer to produce thundering, forceful bass from an amplifier capable of delivering up to 1800 watts of power. The MS-A5001 digital signal-processing amplifier, part of the JBL MS Series, is an ideal power partner for the MS-12SD4.
Rigid polypropylene cone
The MS-12SD4 subwoofer features a rigid polypropylene cone that is lightweight but stiff enough to move air effectively without flexing. The result is a low-frequency diaphragm that reduces unwanted mechanical distortion under movements up to its linear-excursion (Xmax) limits.
Stitched tri-laminate surround
The stitched tri-laminate surround on the MS-12SD4 subwoofer features dual stitch lines for a robust connection to the cone. The material is uniquely able to control the cone's movement and dampen any vibrations that originate in the frame and mounting surface from reaching the cone. The result is precise control and excellent bass at low or high volumes.
Cast-aluminum frame
The cast-aluminum frame on the MS-12SD4 subwoofer ensures a rigid chassis for the sub's moving parts. Since cast aluminum is nonmagnetic, the sub's magnetism is focused on the voice coils to control the cone's rapid, piston-like movement and reproduce even the most complex bass sounds faithfully. Cast aluminum also dissipates heat efficiently and hence provides reliable power handling.
Vented magnet assembly
All MS-12SD4 subwoofers include a vented magnet assembly to let the voice coils breathe. This feature reduces the probability of power compression in systems playing loudly over a long period. It means an efficient use of amplifier power so that all the power delivered to the subwoofer is directed to the voice coil and not wasted as residual heat.
Flexible, dual voice-coil design
Dual voice coils on MS-12SD4 subwoofers offer the best range of wiring and system-configuration options to optimize the amplifier's output load. When you're using multiple subwoofers, the dual voice-coil configurations allow dual, triple and even quad subwoofer designs to optimize the amplifier load for maximum power output.
Small sealed and vented enclosure volumes
MS Series subwoofers provide amazing bass from modest enclosure volumes. For this 12-inch (300-millimeter) sub, we recommend a respectable 0.95 cubic feet (about 27,100 cubic centimeters) sealed enclosure or 1.7 cubic feet (about 48,100 cubic centimeters) vented enclosure. Since vented enclosures provide greater output than sealed enclosures given the same power, the vented-enclosure option will work with smaller amplifiers.
Spring-loaded connection terminals
The MS-12SD4 subwoofer features spring-loaded connection terminals for both voice coils, ensuring ease of connection for a variety of wire-gauge sizes. The subwoofer's push terminal also makes easy work of connecting series or parallel voice coils, or wiring to other subwoofers.
Match with other JBL MS Series products
The JBL MS-A5001 digital signal processing mono amplifier is an ideal companion to one or more MS-12SD4 subwoofers. Add an MS-8 digital integration processor to the sound system, and listen to the speakers come alive, blend seamlessly with the sub and provide an in-vehicle sound experience that'll rival great home audio experiences. JBL engineering has once again delivered excellence in an MS Series product.
Premium-performance 4-ohm subwoofer.
The JBL® MS-12SD4 is a high-performance, high power-handling, dual voice-coil subwoofer using advanced materials and innovative engineering to create smooth, powerful bass in your car. The subwoofer's dual 4-ohm voice-coil design allows for a wide variety of connection options. You can use multiple subs to add bass, as many amplifiers – particularly the JBL MS-A5001 digital signal processing amplifier – easily drive multiple subwoofers. This sub features advanced components that include rigid polypropylene cones, stitched tri-laminate surrounds, vented magnet assemblies and non-magnetic, cast-aluminum frames for minimal power compression under extended use. Its peak power handling is 1800 watts, so it can handle tremendous power. It requires very modest enclosure volumes and performs well in either a sealed or a vented enclosure design. This subwoofer is truly a premium, performance-oriented product that can deliver excellent bass in your car.
Sharing