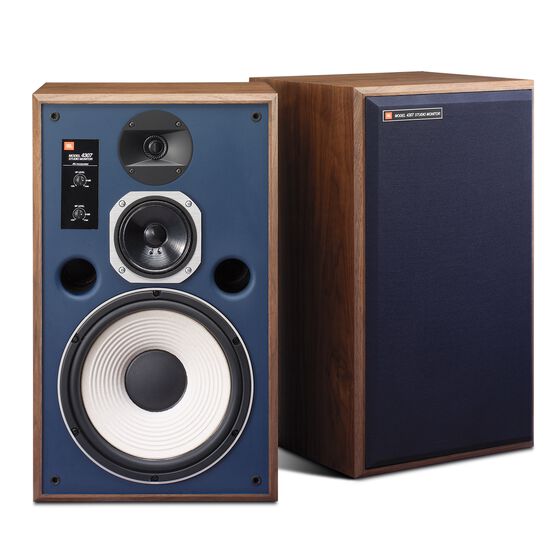 4307
Details
https://th.jbl.com/4307.html?dwvar_4307_color=Cherry-Germany-Current
---
150-watt, 10" (250mm) three-way control monitor that brings studio-quality sound to your home
25 – 150 watts recommended amplifier power
JBL engineers designed the JBL 4307 Control Monitor to deliver enhanced, room-filling sound from a compatible AVR (audio/video receiver) or 25- to 150-watt power amplifier.
10" (250mm) low-frequency transducer for low-distortion, natural sound
The 4307's non-bleached, non-colored, white pure-pulp cone ensures low distortion and a natural sound while a rubber surround reduces resonances for enhanced durability and a low-distortion magnetic circuit improves bass accuracy.
5" (125mm) midrange transducer for smooth midrange reproduction
The 4307's polymer-coated, pure-pulp cone with double-pleated cloth edge ensures smooth midrange reproduction, while a powerful magnetic circuit increases power handling for dynamic performance at higher volumes.
1-1/2" (38mm) high-frequency transducer for sparkling HF response
A dual-layer laminated tangential ring diaphragm, a tangential rib outer suspension and a die-cast aluminum horn with phase plug ensure sparkling high-frequency response from the 4307 control monitor.
Front-mounted port for extended low-frequency response
A single front-mounted port provides optimal low-frequency tuning for extended bass response. It also allows you to place the speakers against a wall and hear no sound anomalies.
Continuously variable midrange and high-frequency attenuators
Adjustable midrange and high-frequency attenuators within a high-quality dividing network let you tailor the 4307's midrange and high-frequency performance to match room acoustics or your personal preference.
JBL sound: a heritage of excellence
JBL loudspeakers have been the choice of music and movie professionals for more than 60 years; they are behind the screens of more than 50 percent of all movie theaters and hang in concert venues everywhere. Many of your favorite songs and movie soundtracks were mixed or mastered on JBL studio monitors. But you don't have to be a recording-industry pro to bring JBL sound home. Our systems use technologies, materials and manufacturing techniques developed for professional speakers.
150-watt, three-way, high-precision control monitor loudspeaker.
The JBL® 4307, a home version of the monitor loudspeakers favored by recording studios, is compact yet powerful. This full-range, three-way speaker is small – just 21-1/2 inches (545 millimeters) high, 12-7/8 inches (328 millimeters) wide and 11-3/4 inches (300 millimeters) deep, and weighing just 36.8 pounds (16.7 kilograms) – but it re-creates music with the power, dynamics and accuracy that the JBL brand has delivered to audio virtuosos for over 50 years. The system's 1-1/2-inch (38-millimeter) tweeter features a tangential ring diaphragm mounted on a cast-aluminum horn for reproduction of accurate high frequencies up to 45kHz. A 5-inch (125-millimeter), polymer-coated, pure-pulp midrange speaker delivers dynamic performance in reproducing the human voice, even at high playback volumes. And a pure-pulp, 10-inch (250-millimeter) cone woofer offers natural-sounding, undistorted low tones. Built-in level 1.5kHz and 6.5kHz attenuators let you to adjust the midrange and high-frequency performance to match your personal tastes. The recommended amplifier power is 150 watts, with a resultant frequency response of 45Hz – 45kHz (–6 decibels) and sensitivity (at 2.83 volts / 1 meter) of 91 decibels. And with a walnut-lacquer finish and blue grille, the 4307 looks as great as it sounds.
Audio Specifications
Frequency Response
45 Hz - 45 kHz
Maximum Recommended Amplifier Power
150 W
Crossover Frequencies
1.5kHz/6.5kHz
Sensitivity
91 dB(2.83 V/1 m)
Speaker Specifications
Midrange Transducer
125 mm pure pulp cone midrange
High-Frequncy Transducer
38 mm pure titanium dome tweeter
Low-Frequency Transducer
250 mm pure pulp white cone woofer
Manuals & Downloads
The latest owner's manuals, quick start guides, and documents.
Sharing