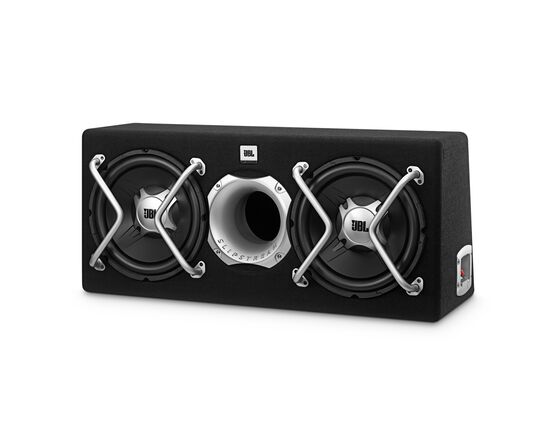 GT5-2402BR
Details
http://th.jbl.com/GT5-2402BR_.html?dwvar_GT5-2402BR___color=Black-USA-Current
---
2 x 30 cm (2 x 12 inch) woofers with a central Bass reflex port, more than enough bass for anyone
A progressive spider for better control
Each GT5 enclosure features a progressive spider, which offers better control at the excursion limits than the linear spider commonly used by our competitors. This progressive spider reduces distortion at high output levels.
Exceptional venting, play long and loud
Structures heat up during use, causing distortion or power compression. This reduces dynamic range, lowers output levels and robs the sound of its realism. JBL® products use vented motor structures and polepieces to give you serious thermal power-handling capability.
Proprietary JBL® Slipstream port technology
The patented JBL® technology creates uniformity of airflow. No distortion. No port noise. Only precise, high-output, thunderous bass reaches your ears. The double-flared shape of the oversized port is precisely calculated for greater low-frequency extension and woofer protection.
Oversized, heavy-duty and reliable
You won't find tougher or more reliable. It has dual-stacked oversized magnets, oversized protection bars – massive metal-bar grilles for a beefy look and woofer-cone protection. Proprietary terminals take heavy-duty speaker wires and are designed exclusively for JBL® products.
Outstanding audio output, low distortion
With 550 watts RMS and 1600 watts of peak power handling, the GTO2402BR changes the experience of listening to your favorite music in your car. And a progressive spider gives better control at excursion limits.
Optimized band-pass tuning
Unlike many inexpensive band-pass subwoofers, GT5-2402BR is able to reproduce even the lowest bass frequencies thanks to a carefully tuned enclosure.
Sharing
<div id="olapic_specific_widget"></div> <script type="text/javascript" src="https://photorankstatics-a.akamaihd.net/81b03e40475846d5883661ff57b34ece/static/frontend/latest/build.min.js" data-olapic="olapic_specific_widget" data-instance="09a3aa0d6cf14f1a0993a5bb26b3dbdd" data-apikey="9a6135cc2f70d7e0622455f3bb6a28b5dcba2668f6aaabb7c1c1ce9654770eee" data-tags="gt5-2402br_" data-lang="" async="async"></script>